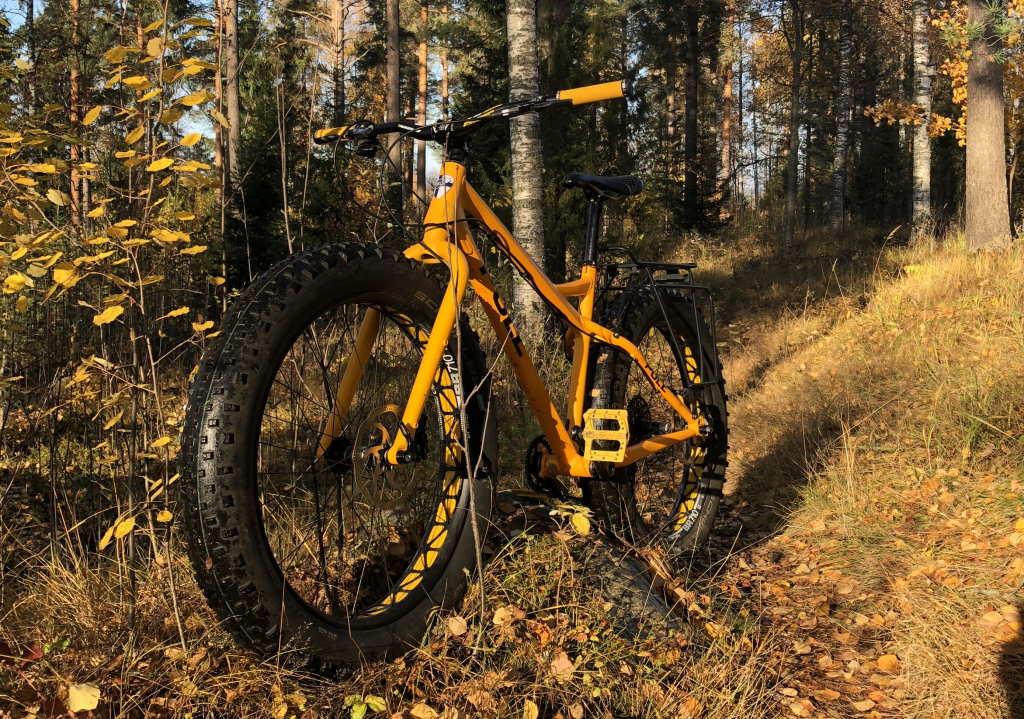 Pole Taiga represents a new geometry generation in fatbikes. Hey Finnish readers, click here!
I bought this frame in fall 2017, so this article is more like a long term test, not a quick write after a test drive. Also bear in mind
that this is my own bike so any bias towards loving it should be accepted as a natural fact 😉
I did also a test ride before buying, and the test bike was ridden on same trails that I rode with my previous short&steep xc-kind of fatbike. This way it was possible for me to have some reference to how the bike handles, and after few hours of trying to break the test bike I was ready to make a deal. This test also proved that it is always a good thing to test ride a bike whenever possible, because the absolute numbers don't always add up.
I ride my fatbike primarily in winters where we have snow from 15 centimeters to 50 centimeters and the trails are narrow. I am not in race fit so my rides are mostly slow and relaxed, but in group rides I usually have to go flat out to compensate speed to more fit riders in group. But whenever I am going down the hill, I try to maximize the fun and speed. In the summers I occasionally hang on frame bags and go for a camp ride with the rest of the guys.
That's enough of riding style, let's look at the bike! I ended up buying a frameset because I already had a nice cache of components hanging on my shelf, and I wanted to play with team color coordination so I would have had to sell most of the default parts. So the yellow color was a no-brainer for me because of all of this black-and-yellow theme on our team. The frame has lots of fixing points for all you need (rear and front rack, Salsa Anything Gages, chain guide, sturdy cable fixings), only missing some front triangle frame bag mounts (which are omitted from most frames so it's not a big issue). Wheels are fixed with thru axles, and critical component measurements are stickered to the rear of the seat tube. Dropper posts with stealth type cable are supported and the cable runs partially inside the frame. And did I mention that the yellow looks great?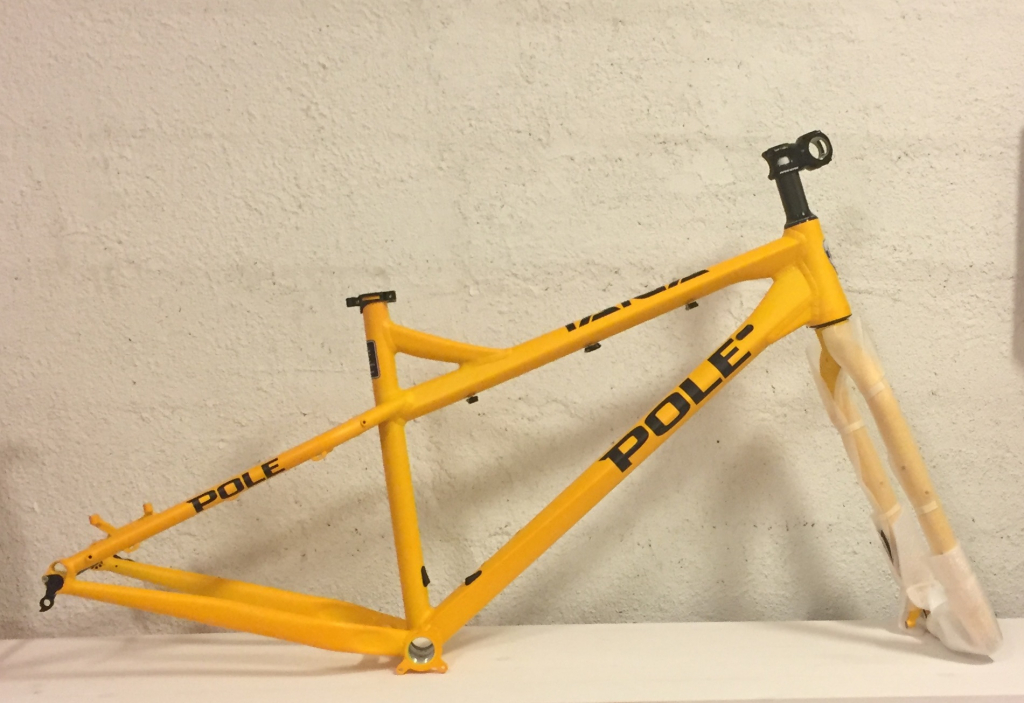 Slap on some Thomson, Nukeproof, SRAM XX / X01, Next SL cranks and the bike is done, oh and the DT Swiss BR wheelset. Wheels are great but I am always a little afraid of denting them in rocks, so I am a bit careful on fastest descents. However the wheelset is so extremely light that I would not change to a heavier set just because. And no dents so far, I am very happy. When I was building my bike the Pole support serviced me excellently, because I was having some trouble deciphering the RF bottom bracket installation guide. Thanks!
Tires are a critical choice in every bike, but in fatbikes in my opinion it is even more important. I like using Surly Bud&Lou in the winter, added with some self-drilled studs for extra safety. This winter I ditched the option and decided to continue using my summer tires which are Schwalbe Jumbo Jim in 4,8 inches of width. And tubeless of course, because less weight on wheel gives you liveliness and hugely better rolling qualities. Taiga has huge tire clearance so I almost forgot to write about it. So there you go.
When you start to roll on bike on asphalt, the bike feels a little sluggish but also very sturdy. This is a common feature of all fatbikes especially on low tire pressures (which are low, because you know, if you need high pressures you have bought a wrong type of bike). The bike feels very long but once you get to ride it, the difference suddenly is not that great. The bottom bracket rides low just like on my previous xc-style fatbike.
On the trails the Taiga starts to breathe. Wide tires conform better with uneven terrain, and with spot on tire pressure the bike actually feels like it is floating over terrain. On uphills and flatland Pole rides like any other fatbike; easy and sturdy. I tend to move less front-to-back on Pole than on other fatbikes, because the bike is so long that it gives you added stability and you do not need extra maneuvers to keep the bike in line. This feels a little like moving from hardtail bike to full suspension enduro bikes, except the suspension bobbing of course. Just spin the cranks and the bike does stuff for you. Easy!
When in downhill, you finally get the point on low-and-slack-and-whatnot geometry. The spots you normally are forced to brake on, you can blow through or brake significantly less. On steep downhill sections you can ride with more confidence than any other fatbike, this I can promise you. With my old fatbike I had absolutely no chance to keep up with enduro full-suspension riders, but on Taiga I can at least keep a healthy viewing distance from them so I dont feel that I am slowing the whole group down on descents. Absolutely brilliant! After riding a while you get how easy the riding is, but you have to also remember that no one has been in the forests removing the steep sections and shoveling some gravel on uneven spots. These are the same trails as on previous ride.
In the winter time it is best to ride like a boss. When a downhill corner is closing, tuck the inner foot out motocross-style, use some rear brake action to make the back end go sideways and let it slide into snow. Then shoot out of the corner like a pro. With a long rear end this feels an easy and fun maneuver when riding, but a spectator might think "fuking räd". Also, this may not be the fastest way to do a corner but nothing, -nothing-, is more fun than this.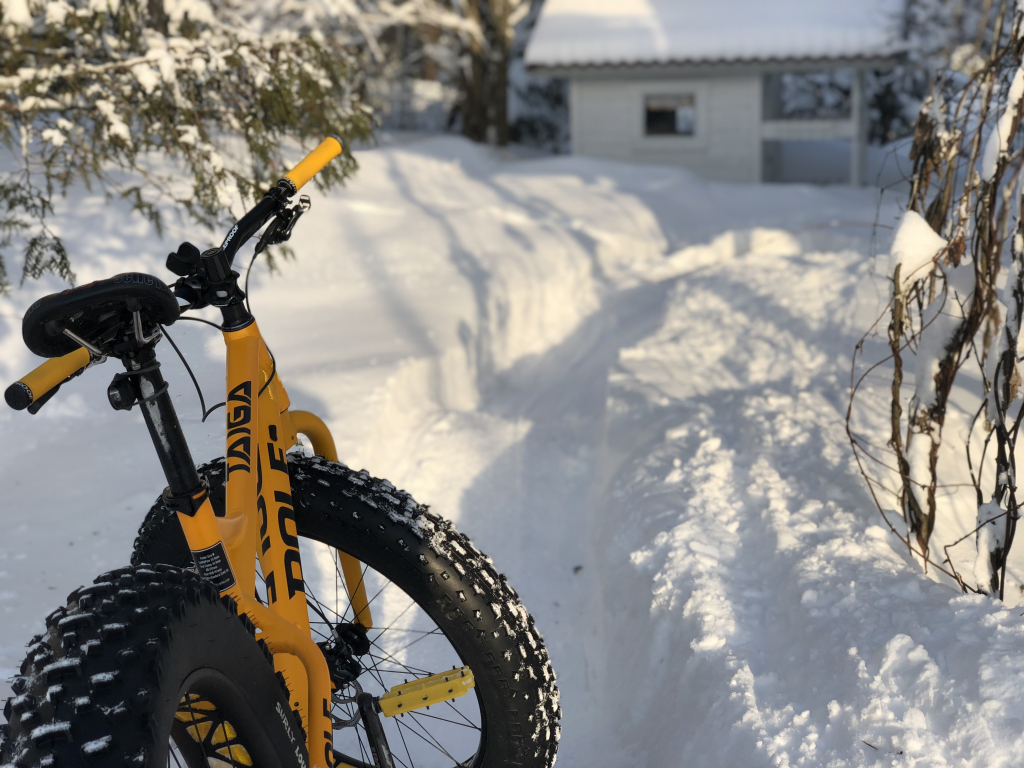 And then for the things that could be better. The bottom bracket could be a little higher, because I often ride in very (very, very) difficult terrain and/or snow, and tend to punish crank heads and pedals more than I like. And oh, if you just could get these frames weighting less than a kilo without sacrificing durability, it would be nice for weight weenies (not me though). The weight is not a real issue because the wheels themselves are relatively light. But I KNOW there are weight weenies reading this.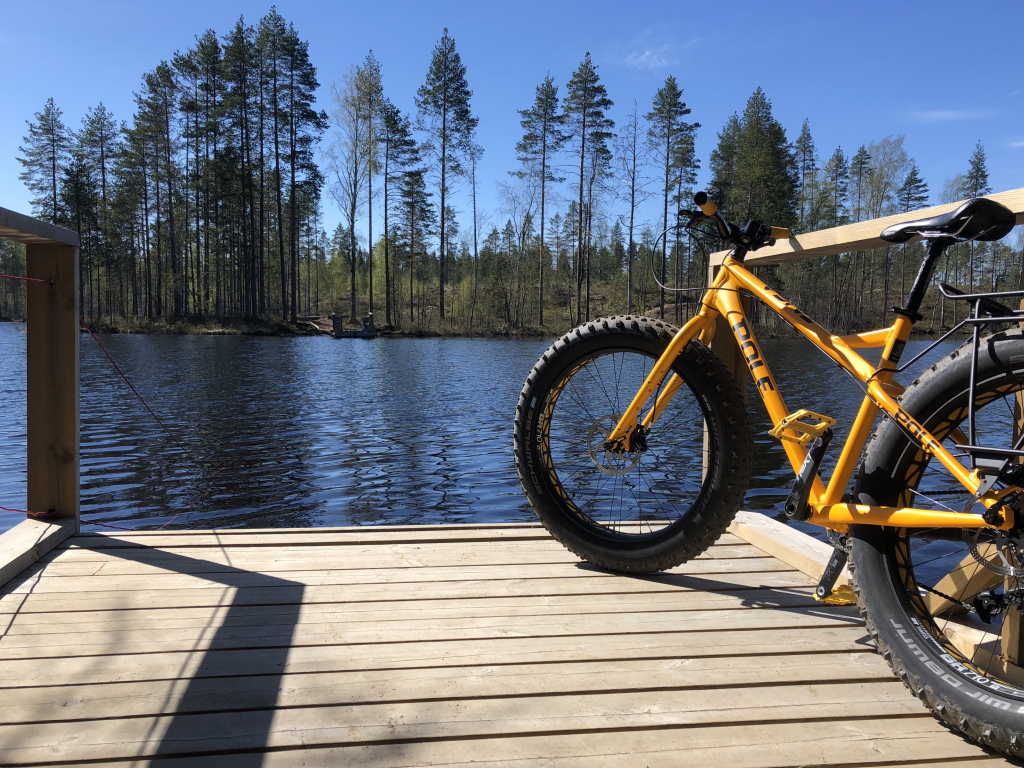 For me this bike is a perfect fatbike for the moment, and I intend to ride it for several years until someone comes up with a significantly better design. I just hope it is Pole Bicycles!
If You like this article and/or by any chance happen to transition into Pole bikes family, let us know!
You can order yours here (come on, I know you want one):
Taiga at Pole Bicycle Company webshop
Specs:
Pole Taiga
Tags:
testi